Economical but professional door frame metal detector TEC-201
【Performance and Features】
Accurate positioning: 6 overlapping network detecting area, bilateral transceivers,accurately locate the detected metals,visually display the target object.

Microprocessor Technology :By microcomputer control circuit generates electromagnetic scanning.The scan rate can be precisely controlled.
Set via control panel according to your need,to ensure sensitivity setting with flexibility,reliability,and stability.
Sound and light alarm:adjustable volume,three choices:muted,bass,and treble;suitable for used in different occasions.

Adjustable sensitivity:Each detection zone has 100 sensitivity levels(0~99),preset sizes of detected metals,to rule out coins,keys,jewelry,belt buckle,etc false alarm.

Digital pulse technology:equipped with digital signal processing filter system, with excellent anti-interference capability.

Password protection settings:Only enter into correct password,can you set the sensitivity level and other parameters.Four-digit password,the user can set own.

Remote control:can set the parameters by remote control.

Counting statistics:counting passing through people and alarm times.

Harmless:Harmless to human body pacemaker,pregnant,magnetic floppy disks,magnetic tape,etc.

Power safety:placed on the top of device,higher waterproof.

Waterproof fixing foot sleeve :not only fix the door,but also waterproof。

Waterproof:Adopt PVC composite material with special manufacturing processing, higher waterproof,fireproof,shockproof.

Easy installation:integrated design,can be installed and disassembled within 20 minutes.
【Technical parameters】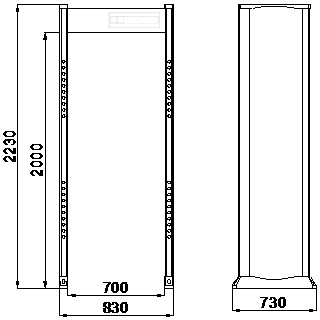 Net weight:67KG

Power:<20W

Working temperature:-20℃~45℃

Channel size:2000mm(H)×700mm(W)×605mm(D)

Dimension:2230mm(H)×830mm(W)×730mm(D)

Package size(door panel): 2300mm(L)×740mm(W)×260mm(H)

Package size(main chasis):780mm(L)×480mm(D)×270mm(H)
Factory parameters】
password1234

Alarm duration1 second

Alarm volumetreble

1~6 detection zone sensitivity90

Language: Chinese&English
Control Unit of metal detector gate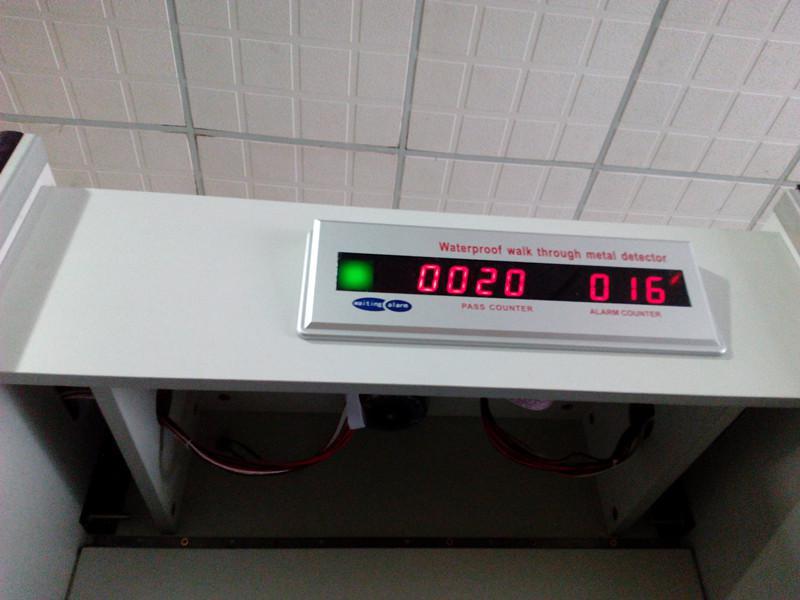 LED panel
Package