Model: TEC-8065 ------ Ideal selection for big heavy packages.
Typical Steel penetration:34mm
X-ray Inspection System is the ideal solution for screening parcels, briefcases, handbags, backpacks or cabin-baggage.

Technical details:
Tunnel Size:800(W)*650(H)mm
Conveyor Speed:0.22m/s
Conveyor Max Load:200kg
Dose per Inspection:< 1.6Gy/h
Resolution:< 0.0787mm Copper Wire
Spatial resolution: Level: dia1.3mm, Vertical: dia1.0mm
Penetrate resolution: Dia 0.511mm
Penetration: 34mm Steel
Film Safety: Guarantee ISO1600 Film
X-ray Leakage: <0.1 Gy/h (at a distance of 5cm From external housing)
Dimensions: 2380mm(Length) *1180(Width)* 1680mm(Height) mm
Applications
Commercial buildings;
Factories(to find needle in clothing, shoes, bags)
Courthouses;
Embassies;
Government buildings;
Military installations;
Prisons;
Mail Rooms
Hotels;
Schools;
Convention centers;
Security checkpoints.
Excellent system for airport, train station, bus station as well as security-sensitive corporate environments
wooden box package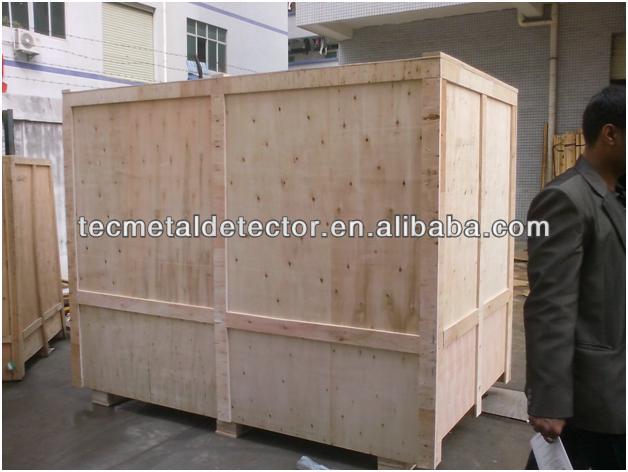 Shipping mode

by air or by sea
1. Choose Guidance
If you have not your confirm your needed type,just tell me your requests,then the most suitable model will be recommended to you.
2. Help you find the most economical transportation way
We always try our best to find the most economical shipping ways,at the same time very safe way,to reduce your cost.
3. Guidance on how to make payment
Many customers are first time to purchase from overseas,so they know little about the internation payment ways and do not know how to operate.Under this condition,we will provide guidance or service line.
4.Products Test and Inspection
To guarantee our customers receive the perfect products,we will check the goods again and again,.
5.OEM Service
If all our models can not meet your requirements,we can provide OEM service based on your requests.
6. 24 Months Warranty
During this period,if anything happen to the goods,not including the artificial damage,the free after-sale service will be provided.